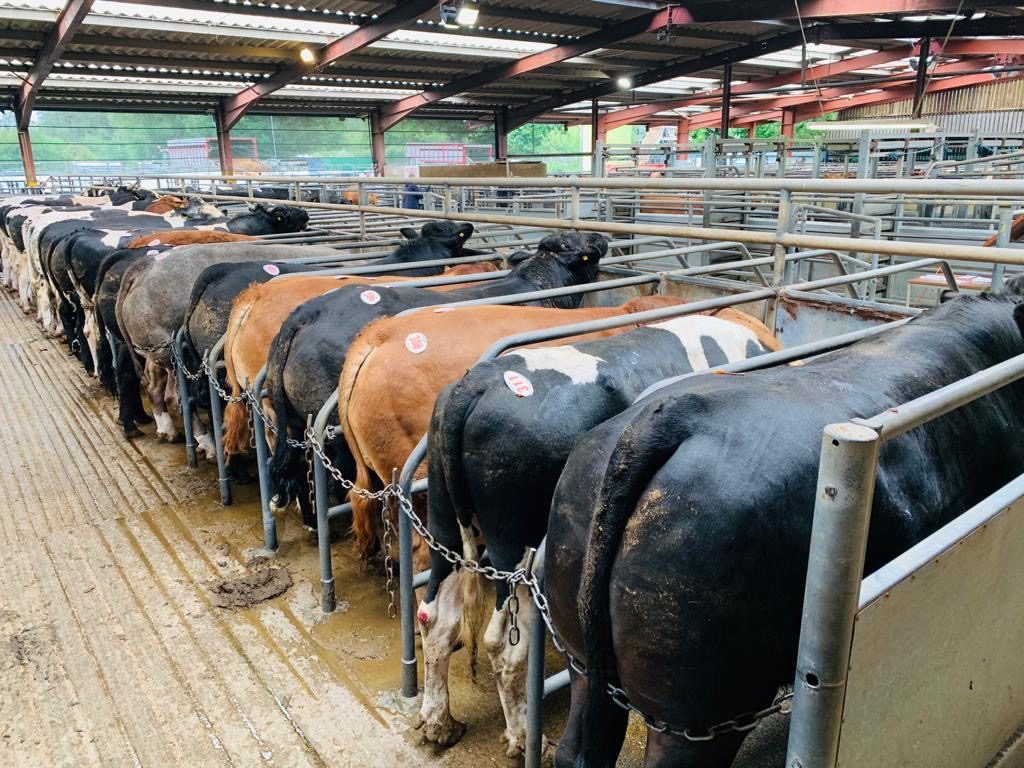 SELBY AUCTION MART WEDNESDAY 10TH JUNE
Forward: 1613 Head of stock inc: 449 Cattle,389 Pigs & 775 Sheep
A great number of clean cattle with 260 forward sold at a similar trade to last week with averages back a bit more due to a mixed show than the price. Strong, good shaped steers in demand. Smart heifers to 265.5p Steers to 240.5p
Less bulls than the previous two weeks met the same trade with best suckler bred types of all weights 220 -230p. Well fleshed black & whites 170-180p
Averages:
Steers: Med 218.5p av 191p, Heavy 240.5p av 208p
Heifers: Med 265.5p av 213p, Heavy 255.5p av 207p
Bulls: Med 211.5p av 163p, Heavy 234.5p av 196p.
OTM:218.5p av 147p.
Cows 163.5p av 137p.
New Season lambs:
32-39kg to 264p avg 239p.
39-45kg to 270p avg 243p.
45.6-52kg to 248p av 234p
Hoggs: Med 188p av 173p, Heavy 181p avg 169p.
Ewes to £108 av £80.30
Pigs: 76-85kg to 145p av 131p,
86-104kg to 154p av 135p
Over 104kg to 154p av 133p
Sows to 90p av 42.5p.
Cattle price per kg:
Top price Heifers: 265.5p for 476kg BBx from E Swales to RH Binks & Son, .Limx 452kg @ 257.5p from JG Waudby to P Binns, Shipley. Blonde 502kg @255.5p, Lim 482kg @248.5p, Limx 458kg @248.5p, Limx 510kg @ 247.5p.
Top price Steer: Limx 556kg @ 240.5p from CR Platt, Hensall to J Penny & Sons, Limx 600kg @ 238.5p from HS & M Everatt to Parkin Butchers, Crowle, Limx 628kg @234.5p,Limx 654kg @234.5p, Limx 606kg @234.5p, Charx 708kg @230.5p.
Top price Bull per kg: Limousin 640kg @ 234.5p ex Heald & Co, Retford to Worsley Wholesale Butchers, Lim 718kg @ 233.5p from J & JR Appleby, Lim 658kg @ 233.5p, JA Miitchell & Sons, Lim 630kg @ 233.5p JE Simpson & Sons, Lim 712kg @229.5p, Lim 592kg @228.5p, Lim 622kg @ 228.5p .
OTMS/COWS: Limx Hfr 600kg @ 218.5p, Lim 530kg @ 211.5p, Blonde Cow 704kg @ 201.5p.
Cattle prices per head:
Steers: Charx 708kg £1631 from GR Wright & Son, BBx 706kg £1606, Charx 710kg £1601 from Hallam Farms Ltd.
Heifers: Lim 718kg £1554 from H Kealey & Sons, Lim 664kg £1517 from WH Farrow & Sons, Limx 654kg £1494, Limx 656kg £1479, Limx 612kg £1465.
Bulls: BBx 940kg £1941from CJ Brownbridge & Sons, BB 908kg £1920 from Marshall Farming Ltd, Lim 826kg £1771, Limx 744kg £1677, Lim 718kg £1676, Lim 778kg £1637.
OTMS/COWS: Bonde Bull 1076kg @ £1511, Char cow 734kg @£1480, Blonde Cow 704kg @ £1418.
Pigs
Trade a bit less compared to last week but best gilt pigs still wanted selling to a top of 154p
Pigs Per kg: Gilts: 104kg & 103kg @ 154p ex C & J Creaser to D Broster Ltd & W Fletcher & Son, 110pkg @150p, 107kg @150p.
Gilts Per head: 109kg @ £164, 110kg £161.50
Sheep
Sheep pens filled with some quality lambs again with a solid SQQ average of 242p/kg , heavies 234p A good number of Ewes dearer on the week averaging £80.34
Top price lambs per kg: 270 p for 40kg Texx from E Stonehouse & Son & 264p/kg for 39kg Beltexx DE & M Brooke
Top price per head:£120 for 51kg Texx ex RC Reed & Sons, £116 for 44kg Texx, Ian Swallow, £114 for 48kg Charx from EG Borrill & Co
Top price Hoggs: 188p/kg for 42kg Beltexx from JG CM Blakey & Sons.
Top per head: £90 for 536kg Contx from Joe Sutherton.
Ewes: Char £108, Texx £106 & £102, Mules £79
Happy 60th birthday to Andrew Craven for yesterday and thanks very much for your help every Wednesday