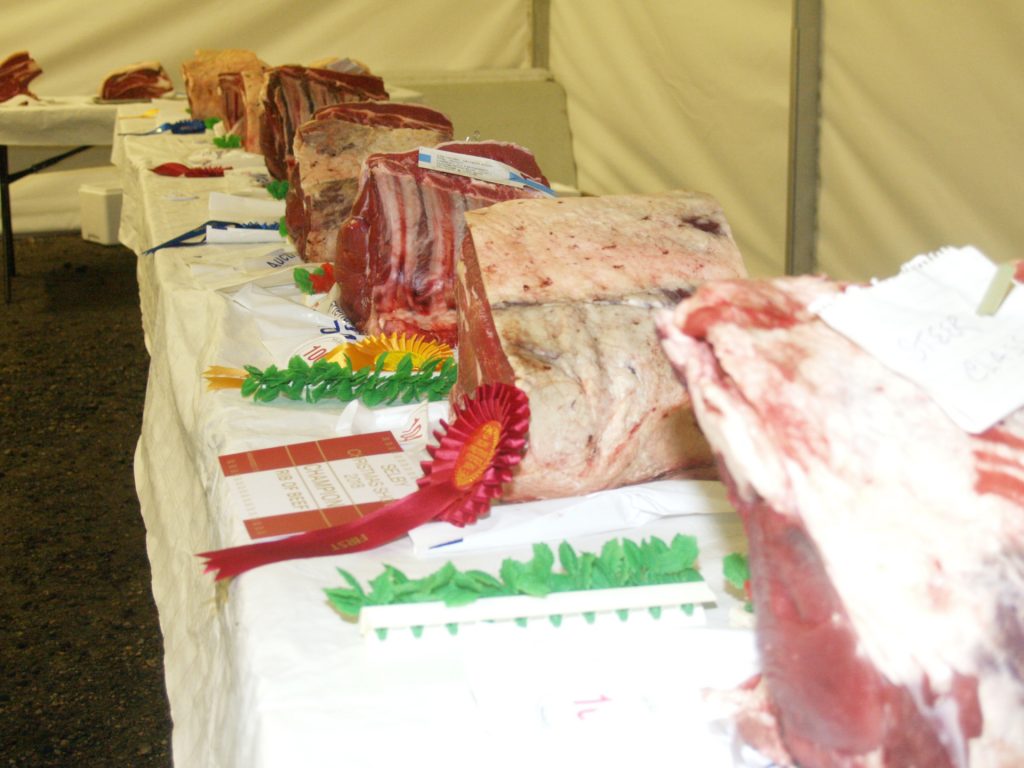 Forward 1427 head of stock inc.309 Cattle,420 Sheep and
698 Pigs.Christmas Show of Prime pigs Judged by father and son team Donald and Jack Binks,Butchers,East Ardsley.Champion pen of four was a pen of Pork weight pigs from T Holgate,Rhyhill selling at 185p/kg or £148 per head to M/s Binks.
Prize list:
Porkers:1St T Holgate 2nd C and J Creaser 3rd NG Brankley and Sons.
Cutters :1st T Holgate,2nd M & JR Branford,3rd C and J Creaser.
Baconers:1st D Capstick,2nd C and J Creaser 3rd M & JR Branford.
Sows:1st M and JR Branford 2nd S Laycock 3rd Tommy Topsoil.
Averages:
Cattle:Strs Med 226.5 av 190.7,Hvy 232.5 avg 192.
Hfrs Med 247.5 av 210.Hvy 254.5 av 215.5.
Bulls Med 191.5 av 152 Hvy 225.5 av 186.
Cows to 143.5 av 106.
Lambs Med 227 av 192.5,Hvy 207 av 174.5
Ewes £78 av £51.68.
Pigs:
Cutters 185 av 112.6
Baconers 143 av 106
Over 104kg 137 av 103.Sows 68 av 38p.
Top prices
Cattle per kg:
Strs Limx 600kg 232.5,Limx 618kg 226.5.
Hfrs:BBx 540kg 254.5p,Limx 484kg 251.5,Limx 520kg Limx 504kg,
BBx 516kg 248.5,
Bulls Limx 624kg 225.5,Lim 594kg 220.5.
Cows Lim 634kg 188.5.
Per head:
Steers Blonde 792kg £1508,Limx 780kg £1478,Char 768kg £1470.
Hfrs Lim 678kg £1447,BBx 604kg £1440,Lim 608kg £1437.
Bulls Lim 908kg  £1648,BBx 824kg £1643,BBx 864kg £1594.
Cows:Lim  738kg £1280,Lim 634kg £1195.
Lambs:Beltex 46kg £95,Beltex 44kg £94,Blue Texel 41kg £93.
Per kg Blue Texel 41kg 226p,Beltexx 44kg 213p
Ewes Suffx £72,Texelx £70.