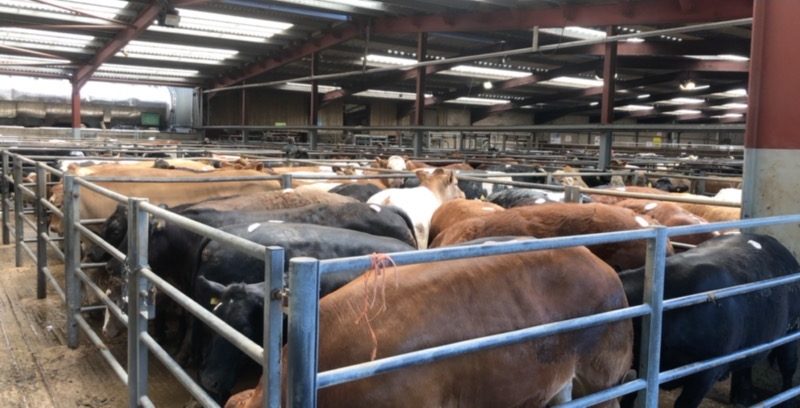 WEDNESDAY 20th May – Market Report
🔥A Great show of Cattle from all over for numbers and quality with a strong demand at ringside for all classes
🔥NEW SEASON LAMBS DEARER ON THE WEEK!
🔥PIG NUMBERS SHORT OF REQUIREMENTS MET AT A STRONG TRADE
Forward: 1501 head of stock inc. 451 Cattle, 274 Pigs & 776 Sheep
♦️ Averages:
Steers: Medium 238.5p av 210.9p, Heavy 236.5p. av 197.3p
Heifers: Medium 268.5p av 204.3p, Heavy 269.5p av 207p
Bulls: Medium 222.5p av 163.6p, Heavy 229.5p av 192p.
OTM: 207.5p av 156p.
Cows: 178.5p av 140.8p.
♦️New Season Lamb:
32-39kg to 320.5p (£128) avg 293p.
39-45kg to 316p (£133) avg 275p.
Hoggs:
Medium to 220p av 206.9p, Heavy to 240p avg 218p.
Ewes to £102 av £76.67
♦️ Pigs:
76-85kg to 140p av 122p
86-104kg to 155p av 136.3p
Over 104kg to 153p av 139.6p
Sows to 42p av 40p,
🐮🐮The dearest beast per head on the day was a 76month old BB bull
From AP & RA Dunn, 1110kg selling at 172.5p/kg @ £1914
Cattle price per kg:
Top price Steer: 238.5p/kg for 552kg Limx from GR Wright & Son to J Robertshaw,Bradford also Blonde 570kg @236.5p, AAx 492kg @ 236.5p, Limx 576kg @234.5p, BBx 558kg @ 233.5p.
Top price Heifer: 269.5p/kg for 510kg Limx from JG Green & Son to Worsley Wholesale Butchers also Limx 472kg @ 268.5p form TR Craven, again to Worsley Wholesale Butchers. Also Limx 474kg @ 256.5p, Limx 504kg @ 254.5p, Blonde 488kg @ 254.5p, Limx 560kg @ 253.5p, Limx 566kg @252.5p.
Top price Bull per kg:
Limx 608kg @ 229.5p from M Eagle to Woolley Bros Ltd, also to 228.5p for 616kg Lim, from Heald & Co & Lim 620kg@ 228.5p from Manby Farms.
OTMS: Limx Str 602kg @207.5p, Limousin Cow 738kg @ 178.5p, 712kg @ 174.5p, BB Bull 1110kg @ 172.5p
🐮🐮 Per head:
Steers: Limx 730kg @ £1551, Paul Spink Ltd,
Limx 752kg @ £1530,Hallam Farms Ltd
Blonde 726kg @ £1513, Limx 808kg @ £1506.
Heifers: BBx 650kg @ £1517 from AL Ablewhite,
Limousin 652kg @ £1470, Heald & Co
Blonde 716kg @ £1464, Limx 618kg @ £1430.
Bulls: BBx 770kg @ £1690,ER Hyde & Son,
BBx £1603 from Marshall Farming
Limx 718kg @£1597, Lim 690kg @ £1562.
OTMS: Lim Cow 902kg @ £1366, Char Cow 1052kg @ £1362,
Lim Cow 738kg @ £1317.
🐷🐷Pigs Per kg:
Gilts: 103kg @ 155p/kg from C & J Creaser to D Broster Ltd
Also 102kg @ 154p, 107kg & 102kg @ 153p .
Per head: Gilts 112kg @ £168, 108k.5kg @ £164.
Sows to 42p av 40p
🐑🐑New season lambs:
Top price lambs per kg on the day 320.5p for 39kg Texx from
DE & M Brooke & 39kg Beltexx from RW Smith both pens selling to A Wright & Son,Boston.
Also Charx 42kg @ 316p, Texx 40kg @ 215p, Texx 39kg @ 312p .
Top price per head: £133 for 42kg Contx from JW Woodall & Son & 44kg Texx @ £133 from J Spetch
Also Texx 44kg @ £131, Charx 44kg @ £130, Texx 44kg @ £130, £128 for 41kg Beltexx, £123 for 40kg Texel cross.
Top price Hoggs per kg
224 p for 39kg Texx, 220p for 44kg Texx.
Top price per head £120 for 50kg Texx, 52kg Beltex @ £114
Ewes: Beltex £102, Texelx £102